PCM Series
PCM Series Sustainable Energy Saving Solution
Refrigerated Air Dryers
Cool, Clean and Dry your Compressed Air
| | |
| --- | --- |
| Brand | Hankison |
| Origin | USA |
| Product type | Air Dryer |
| Model | PCM Series |
| Guarantee | 12 months |
HANKISON | PCM Series
Sustainable Energy Saving Solution
Energy Saving Sustainability
The FLEX Series lowers air system power costs and improves productivity by matching power consumption to compressed air demand.
In a typical manufacturing facility, up to 30% of electricity consumed is for generating and treating compressed air. To reduce total cost of operation and qualify for utility company incentive programs, proper air treatment equipment selection and application is required.
Load Matching Performance
Compressed air load profiles in most manufacturing facilities fluctuate. The FLEX Series provides cost-effective energy savings by matching electrical power consumed in direct proportion to air demand. Linear load matching is achieved from 0% up to 100% demand.
Non-cycling dryers operate with the refrigeration compressor running continuously, regardless of inlet load conditions. Minimal energy savings are realized from 100% down to 0% inlet air load.
Linear Energy Savings
FLEX Series dryers automatically cycle (on /off) the refrigeration compressor in response to inlet load conditions. As the inlet air load is reduced, the power requirement to dry the air is matched in proportion to the demand. For example, at 60% inlet air load, a non-cycling dryer consumes 96% of the full load power consumption, a 4% energy savings. By comparison, at 60% inlet air load, the FLEX Series consumes only 60% of the full load power, a 40% energy savings.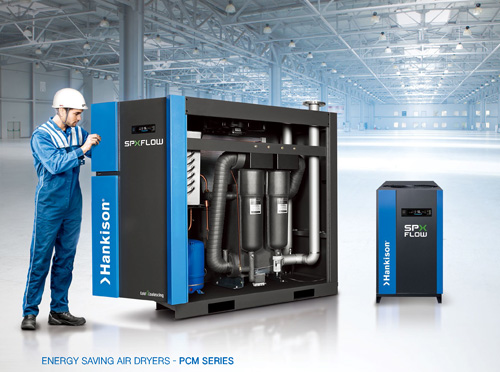 Hankison is dedicated to supplying quality compressed air treatment products worldwide. The foundation that was laid at the company's inception in 1948 has since been expanded to include several global manufacturing facilities on three continents and a state-of-the-art research and development framework within which products are conceived, designed, tested, and manufactured. Hankison participates in numerous trade memberships, has obtained global certifications for its major product lines, and has achieved ISO 9001 certification, the internationally recognized standard for quality assurance.